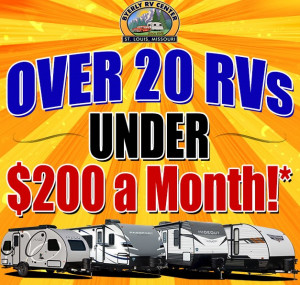 Looking to escape this summer? Byerly RV in Eureka, MO has a great selection of RVs available for under 200 per month *.  From Wildwood, Passport, Hideout, R-Pod and more! Get out and start RVing this spring and summer.  Browse our great selection of RVs available for under 200 per month *.  We have a great fit to help you escape to the outdoors.
CLICK HERE TO SHOP THE SELECTION OF NEW RVS UNDER 200 per month *

Looking for a personalized RV viewing experience but can't make it out to Byerly RV in Eureka, MO?  We've added a new feature to our website.  On each of our RVs (travel trailers, 5th Wheels, Class A motorhomes, Class C motorhomes, etc) you'll see a button that says "Personalized Viewing Experience".  By completing the form, one of our trained RV Outfitters can send you a personalized RV viewing experience for that vehicle.

If you've been dreaming of escape and the adventure that the RV lifestyle can bring, we're here to help.  In addition to all of the great virtual tours available for many RV's in stock. If you would like to schedule a appointment to meet with one of our Outfitters you can contact us through:
– the text app at the bottom our website
– via email at Sales@byerlyrv.com
– call us at 636-938-2000
– the "Contact Us" page of our website
– via Facebook
Our team will respond to you shortly during business hours and happily schedule a time to connect with you.
So give us a call, text, email or just check out our content on the website, Facebook or YouTube.
STAY CONNECTED FOR MORE RV TIPS, TRICKS, AND HELPFUL INFORMATION:
Byerly RV Website
Facebook
Instagram
Twitter
Byerly RV, in Eureka, Missouri is the Priority RV Network dealer for the St. Louis, MO market. Byerly is a family owned company which was founded in 1948. Byerly RV is St. Louis's only Top 50 rated RV dealer for the past 3 years!  Byerly is truly the Center of the RV World.
CONTACT US:
636-938-2000
800-878-3325
295 East 5th St
Eureka MO, 63025
* $0 down for 144 months. 6.5% wac. No additional fees. All calculated payments are an estimate only and do not constitute a commitment that financing or a specific interest rate or term is available.